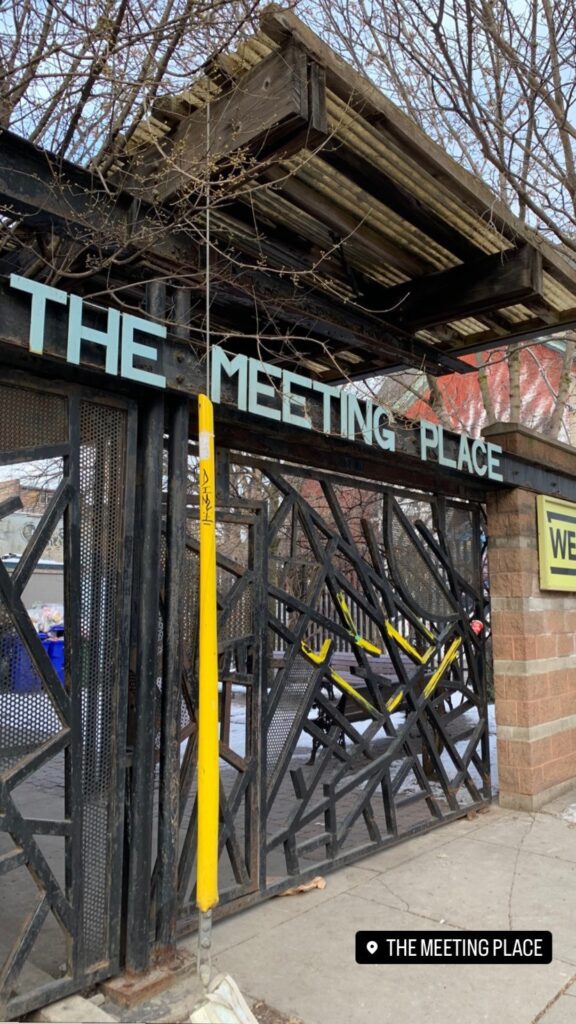 Where is it?
588 Queen Street West Toronto, ON
What is it?
WNH is a community centre that offers programs and services to 18+ community members experiencing homelessness and inadequate housing.
The Meeting Places aim to lower social isolation and improve well-being. Using a community development approach, staff and members work together to remove problems that keep people from accessing housing, income, and healthcare support. The community space offers safety, security, and access to basic needs as well as, hope, and possibility for the future.
When is it open?
Sunday – CLOSED
Monday – CLOSED
Tuesday 11:00 a.m. – 3:30 p.m.
Wednesday 9:30 a.m. – 3:30 p.m.
Thursday 9:30 a.m. – 3:30 p.m.
Friday 9:30 a.m. – 3:30 p.m.
Saturday 9:30m. – 3:30 p.m.
What services do they offer?
Showers
Laundry
Harm Reduction supports and supplies
Referrals and Case Manager Support
Weekly Spirit Circles on Wednesday Mornings at 9:30 a.m.
Snacks, Coffee, and Tea are provided daily
Pool Table, Games, Books, Puzzles, and more
WNH also offers psychiatric services if you are interested in booking an appointment please contact Barbara Pandza at 416-504-4275 ext. 220 or speak with a staff member at the Meeting Place.
What programs do they offer?
Here is the current schedule for WNH and the program times. The programs vary from social groups, skills building, educational programs, outreach, open conversations for members to speak, and more.
Please Note: 12:00 p.m. – 1:00 p.m. is currently open time for the continuation of programs and transition into the afternoon programs during staff breaks.
 

Tuesday

Wednesday

Thursday

Friday

Saturday

9:30 – 10:30

CLOSED

SPIRIT CIRCLE

COMPUTER SKILLS

SILK SCREENING

MOVIES

11:00 – 12:00

KNITTING/ CROCHET

MORE THAN WORDS

EDUCATIONAL PROGRAM

SKILLS BUILDING

12:00 – 1:00

MISC

MISC

COFFEE AND CHAT

ART PROGRAM

MISC

1:00 – 2:00

KITCHEN SKILLS

LUNCH

NAIL CARE

BRAVE CONVERSATIONS

LUNCH

2:30 – 3:30

HARM REDUCTION

WOMENS GROUP AND

OPEN CIRCLE

MENS GROUP

BINGO
Does WNH accept Donations?
Yes! WNH has a list of items they regularly need such as:
Clothing – new with tags
Sleeping Bags
Tarps or other Camping Supplies
Razors
Unscented Toiletries
Wet Wipes
Tissues
Portable Phone Chargers
Undergarments
Hats
Gloves
Socks
Gift cards *

Tim Hortons
No Frills
Metro
*Reminder: Fix the 6ix also collects gift cards to buy products for shelters based on what they need! This includes West Neighbourhood House – The Meeting Place, the women's residence, and Margaret's Housing and Community Support Services
Fix the 6ix accepts gift cards by drop off in one of our donation boxes (locations outlined on our Instagram), 248 Ossington Avenue, or send it online to regiftcard-pillar@fixthe6ix.ca