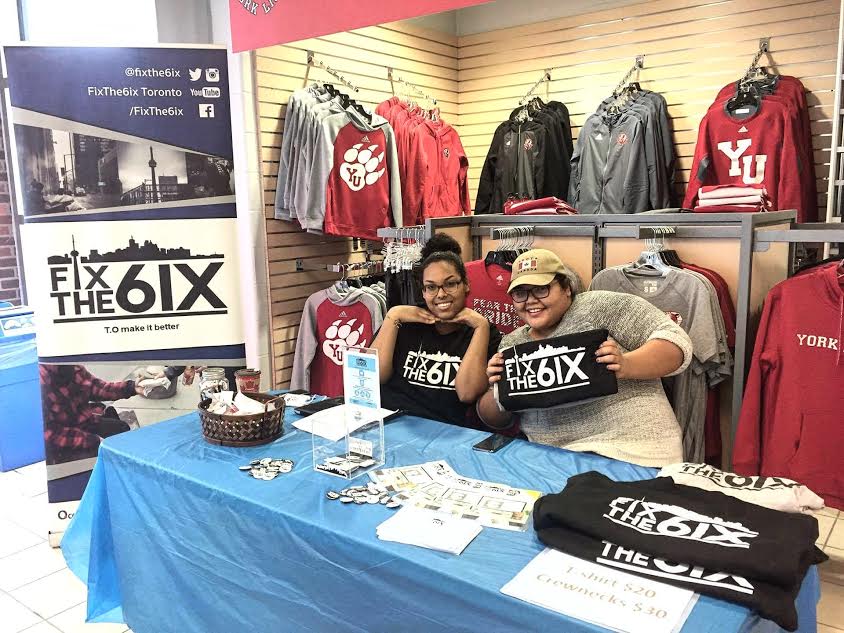 As of September 30 2016 Fix the 6ix became a ratified student group at York University! The Fix the 6ix club held a cross-campus ReGiftcard campaign March 6th to 17th 2017. During this time students were invited to donate gift cards at eight locations: Tait McKenzie Athletic Centre, Student Community & Leadership development office, Stong College, Winters College, Calumet College, Vanier College, New College and McLaughlin College.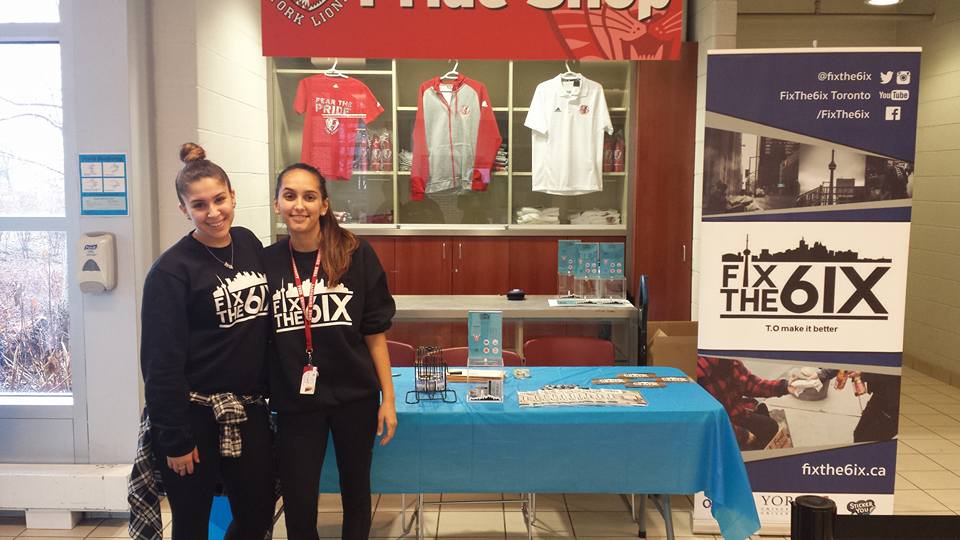 Fix the 6ix was live for it's pilot project March 7 to March 31 2016 at York University. With a team of about a dozen volunteers, we mobilized 18 gift card donation stations and hosted 5 campus tabling events to collect gift card donations to help the homeless.
We had a fantastic start collecting 428 gift cards over the 4 week pilot campaign period, totaling over $2400 in gift card credit.
Thank you to all student council offices, campus restaurants, clubs and faculty for the support of the pilot project!
| Donation Station Locations | Address | Dates |
| --- | --- | --- |
| Student Council Offices | | |
| Bethune Student Council Office | 122 Bethune College | March 7 to March 31 |
| Calumet College Room 100 | 100 Calumet College | March 7 to March 31 |
| Founders Student Council Office | 121B Founders College | March 7 to March 31 |
| McLaughlin Student Council Office | 143 McLaughlin College | March 7 to March 31 |
| New College Student Council Office | 105 Atkinson Building | March 7 to March 18 |
| Stong College Student Council Office | 106A Stong College | March 7 to March 31 |
| Vanier Student Council Office | 120 Vanier College | March 7 to March 31 |
| Winters Student Council Office | 003 Winters College | March 7 to March 31 |
| Donation Station Locations | Address | Dates |
| --- | --- | --- |
| York University Restaurants | | |
| The Absinthe Pub | 013 Winters College | March 7 to March 31 |
| Cucinetta Italian Café | York Lanes | March 21 to March 31 |
| Great Canadian Bagel | York Lanes | March 21 to March 31 |
| The Orange Snail | Stong College Basement | March 7 to March 31 |
| Qoola Frozen Yogurt | York Lanes | March 7 to March 18 |
| Donation Station Locations | Address | Dates |
| --- | --- | --- |
| Office and Resource centres | | |
| Bethune SOS Office | 208 Bethune | March 7 to March 31 |
| Emergency Care PKIN | Stong 116 | March 7 to March 31 |
| Kinesiology Undergraduate Office | 341 Bethune | March 7 to March 31 |
| Tait McKenzie Fitness Centre | 1 Thompson Road | March 14 to March 18 |
| YFS Office | 106 Student Center | March 7 to March 31 |